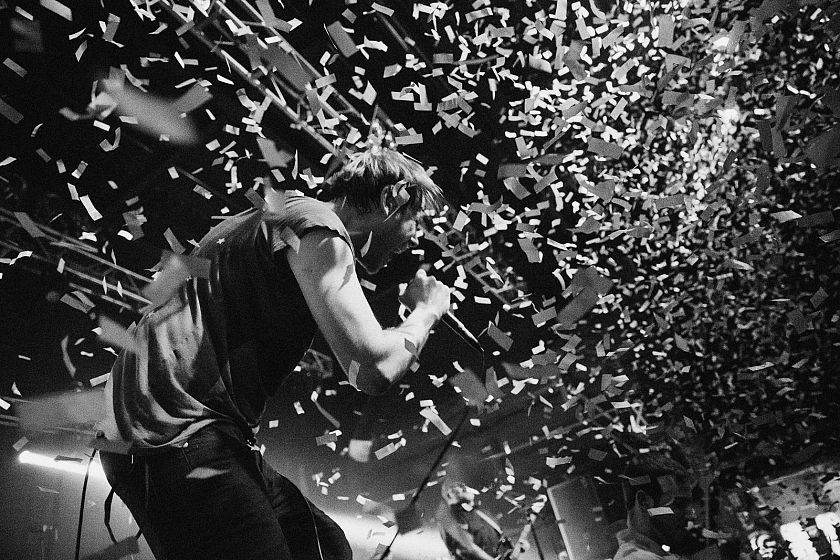 Thursday
Thursday
On the precipice of the 23 years since the release of their debut record Waiting, the triumph and tragedy (and back to triumph) story of Thursday is well documented. From their humble beginnings in 1997 to worldwide magazine cover success, all through the aughts to the kind of renaissance comeback that LL COOL J writes songs about - in the 20-teens.
Throughout the course of six monumental records between 1999 and 2011 their one true consistent always remained – the music. Much like a fine wine, it only got better with age!
Regarded as pioneers of the Post Hardcore movement the band re-emerged from their 40 days in the desert sabbatical from 2012 to 2015 with a series of 2016 festival shows.
2017 and 2018 was spent doing predominantly what they loved the most – getting in a bus and touring, touring, touring.
2019 in particular was a landmark pivotal year. They performed 44 sold-out American shows in celebration of their 20th Anniversary by performing their seminal records Full Collapse and War All The Time in full. They also toured Germany, Holland, England and Japan. The year finished with being hand- picked to support My Chemical Romance on their epic return to the live stage at The Shrine Auditorium in Los Angeles.
Well-intentioned plans soon gave way to global circumstance and the great isolation of March 2020 saw the band pivot to innovation when they invoked the DIY spirit that was omnipresent during their early basement days of the late 90's by mobilizing alongside grassroot cloth cutters and Dave Matthew's fabric factory to manufacture, create and donate thousands of masks to frontline workers in their beloved New York and New Jersey.
They also became film makers and created a trilogy quarantine livestream series entitled 'SIGNALS' between August 2020 and April 2021.
Summer 2021 saw vocalist Geoff Rickly cautiously embark on a solo tour before the band teamed up with old friends Taking Back Sunday and Piebald for a September mini-tour. Their triumphant weekend at Riot Fest perfectly illustrated the contradictory duality that the band has always existed in. They were the hottest ticket in town on Saturday night at the 400 capacity Cobra Lounge (which sold out in 45 seconds) before playing to 40,000 people the next evening as the sun came down. The following weekend saw them perform at the revived Furnace Fest.
The band returned home with one mission – they had to build out feelings of inspiration, community, kindred spirits, phenomenal music and excitement over the course of a tour. They shot for the stars and asked their new friend Nate Bergman, Cursive, Jeremy Enigk (of Sunny Day Real Estate) and The Appleseed Cast if they would grant Thursday the honor of performing alongside them. They all said yes and the first quarter of 2022 suddenly got very busy.
Recently added to the WTF is happening viral festival 'When We Were Young' in Las Vegas, the band will also be part of the Inaugural Emo's Not Dead cruise which sets sail from Los Angeles in November, heading down to Ensenada, Mexico and Sacramento's Aftershock Festival.
It is not however what they have done, it is all about what they are going to do and with a little bit of luck, 2022 will be a monumental year for the seventh best band from New Jersey ever!
Watch this space. You have been warned.