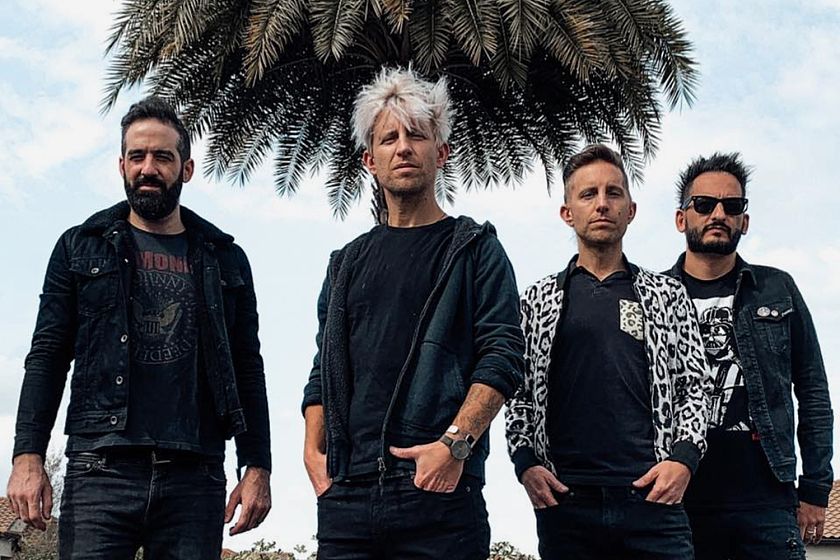 Madina Lake
Madina Lake
Fusing the forceful guitars of heavy metal with crisp harmonies, electronic accents, and the melodic conceits of indie rock, Madina Lake is a conceptually ambitious group whose songs tell the stories of the imaginary community of Madina Lake, a secluded hamlet in the woods where life is much as it was in the 1950s. However, beneath the town's peaceful façade lurks a disturbing undertow that reflects the most destructive aspects of American culture, which manifest themselves in strange and unexpected ways. The band was formed in 2005 in Chicago, IL, by twin brothers Nathan Leone (vocalist) and Matthew Leone (bassist), in addition to Mateo Camargo (guitarist) and Daniel Torelli (drummer).
The Leone twins first gained nationwide media recognition by appearing together on a special episode of the television series Fear Factor, using the money they earned from eating cow guts and hanging from helicopters to pay for a demo for their new band.
After several months of D.I.Y. touring, Madina Lake was invited to tour the U.K. as an opening act for Paramore where they quickly earned a following in England, Scotland, and Wales though their well-received live shows and video exposure. Upon their return to America, Madina Lake began attracting a larger audience though additional touring and signed a deal with Roadrunner Records.
The musicians self-released their first EP, The Disappearance of Adalia, in the summer of 2006, and Roadrunner released Madina Lake's first full-length album, From Them, Through Us, To You, in March 2007. A sophomore release, Attics to Eden, followed two years later. Their final album, World War III, was released in September of 2011 and concludes with the discovery of Adalia and an epic battle of good and evil that mirrors human internal struggles with self.
Madina Lake reunited in 2017 to play a few shows in the UK, Slam Dunk Festival, and Sixthman's Vans Warped Rewind at Sea Festival. It was unclear if the world would ever see perform live again, but in 2020 the band released an EP, The Beginning of New Endings, followed by a single titled, "Loser," which gave fans hope that they would be back. Their hope was not all for naught, as Madina Lake will take to the high seas once more on Sixthman's second Emo's Not Dead Cruise.